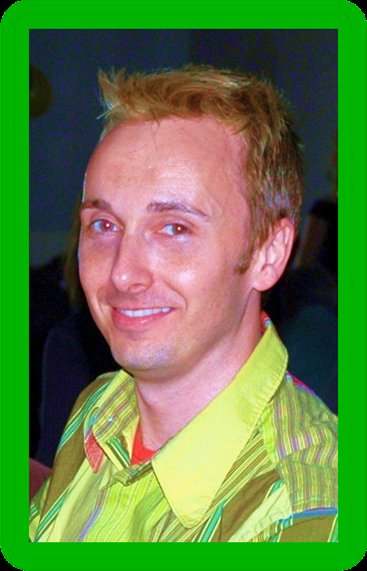 Ballroom and Western Dancing is good exercise and lots of fun. Gary L. Cox is a Professional Competition and Social Dance instructor of Ballroom and Western Dance. Gary has competed since 1986 and taught for fifteen years. Gary is with the Heart of America Dance Centre in Historic Lee's Summit.
Gary's moto is "less is more." You want Quality not Quantity. He always teaches technique as well as steps. That is why Gary only offers one or two dances in a six week course. Dancing is great fun, but he wants you to know your steps. His goal is to have all his students look great when they dance and to foster confidence on the floor.
Whether you are a beginner, or advanced dancer, Gary's classes are fun for all dancers. Gary uses a rotation method of instruction. First he teaches you the basic steps to the dance style. Gary walks the men and women through the dance stept in an easy to understand demonstration where you can learn the dance steps, body position, and movement of the arms in separate positions. Then the men and women work together in a rotational method of practicing the dance together. Partners change to practice the steps and movements again. Gary demonstrates the proper way to perform each element of the dance set. Each style has its own motions that are unique. Other movements apply to many styles of dance. Things learned in a Rumba can apply to the Swing or Chacha. The steps start slow and easy and you build to the appropriate speed and tempo required for each dance style. The terms used are simple to understand. Not requiring formal dance training. Thus anyone can learn the dance of their choice. After a couple walk through, you apply it to music and you are dancing. Repition with one on one instruction of how to interact and the possible variations from basic to advanced. The dance is divided into actions. These actions make steps and movements easier to learn and remember.

Gary teaches all levels at steps from there. This develops good Social Dance skills and steps to dance in any setting. Singles and couples are always welcome. Come learn some of the dances that you have seen on television and in the movies. Do not forget that Gary offers dances every Friday night to practice your moves.
Couples learn to dance with each other. Learn to dance with any partner on the dance floor. Form, style and technique show on the dance floor, as you enjoy dancing the night away. Have fun and keep fit at the same time.
Waltz, Rumba, Cha-Cha, 2-Step, Salsa, Merengue, East Coast Swing, Foxtrot and Quick Step, West Coast Swing,and Night Club 2-Step are some of the dances you can learn from Gary.
Gary currently offers classes and dances Sunday, Monday, Tuesday, Friday and Sunday at four locations. Check the schedules to see which class and day are best for you.
have viewed this page.
567 people have visited this page since its creation 01/13/06 up to 04/30/06. Thanks for being one of our special guests.